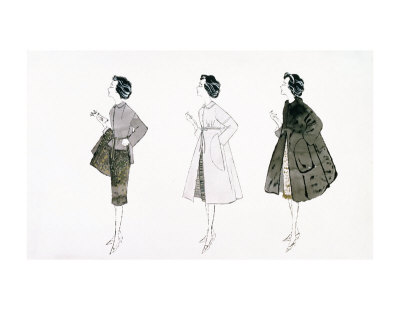 (Back by popular demand.  Originally posted January 2009)
It's a brand new year (yea), a new beginning for looking your best. You are probably thinking—what exactly does that mean? First, this is about you, not your thinner, prettier, etc. friend. Before I get into the details of looking your best it is important to know that your best starts from the inside out—(fashion philosophy at its chicest). Which is not to say it doesn't matter how you look on the outside? Who it should matter most to is you. Having worked in the 'real' retail fashion world for 30+ years I feel more than qualified as an expert on what looks good on every body type. Trends come and go– always have, always will. This new year, as in every new year, it is about you finding your best style and fit.
Let's start with the mirror; the first item I strongly suggest you invest in is a three way mirror, (scary huh?)   It will forever change how you and other important people in your life see you. It is where your new fashion journey begins.
While there are numerous sites where mirrors of all types are sold, you may want to look around your area and see what you like. We have searched and a good site with lots of styles and prices is www.mirrotek.com.
Reflections on your experience would be appreciated.
Written by Paula Boyum
New opportunities of type levitra online pharmacy in increasing frequency come to our life which perhaps to you were very necessary. But they didn't exist. Here they appeared. You can use.